November 5, 2017 3:21 pm
Almost two years ago today we sat down behind this mic,turned it on and just went for it..we had no fucking idea what we were doing,where we were going or how long we would decide to keep doing it…we just knew that day we were having fun for the moment…little did we know it would end up being a 2 year amazing adventure. Unfortunately..like always…life changes and takes unexpected turns..and sometimes when those changes happen we are forced to move on from things we were able to do in the past..and for us,this show is one of them.
As we come to the end of this chapter in our lives there are a few people we must take the time to thank.
First…we want to thank Elle Sera,our featured artist who has allowed us to borrow her amazing voice for our podcast songs. From the minute I knew we needed a song,I knew instantly it was your voice I wanted to end our show with every week and without any hesitation at all,you said yes giving us the pleasure of sharing the angelic voice of our very good friend with our listeners. Thank you for taking this journey with us.
Next, we want to thank our amazing friends who have also taken this journey with us as our guests. I know you never heard our convos away from the mic,but more times than I could count they included us talking about how we had the most amazing cast ever. We REALLY did. We are so happy that you all agreed to take this ride with us giving us a lifetime of laughs and memories and we hope you know there is absolutely nobody that we would have rather taken this journey with. So…Kim,Whitney,Brittany,Tina,Miri,Arnie,Jaimee,Decker,Shannon,Anthony,Paula,JoAnn,Bryan,  A.J.,Jeremy,Kassie and Rob….make no mistake this was just as much your show as it was ours. We absolutely love you all.
To our editor,Rich…well,lets face it…without you,we wouldn't even know what the fuck to do or how to get these episodes out to even be heard,so,thank you for all your help,your teachings and your patience when we had to call you about something we couldn't figure out when our equipment went down..for all of it and more..thank you so much. Hopefully you read the blogs more than you actually listen to our episodes or you will never even see this 😉
…and last but never ever least..to our listeners and fans who supported us from the beginning and never looked back…the ones who joined us later and stuck with us..all of you out there who not only became fans of our show but fans of us and our guests…you have been the ones to give us the inspiration to keep going when we were too tired or had frustrations or when faulty equipment made us lose episodes more times than we could count and we wanted to just throw our hands up in the air…it was for you we kept going and from the bottom of our hearts we will forever be thankful for every single one of you.
Sincerely,
Vin and Mel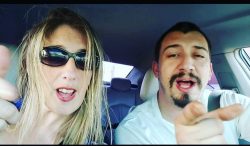 Categorised in: Uncategorized
This post was written by humorus